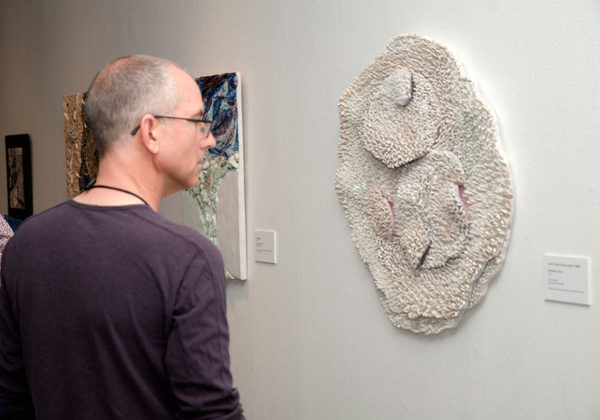 SAMA Artist Gallery Registration
2021 Fall Market Consignment Agreement
Please read all directions and terms and conditions before completing registration. (Downloadable PDF of Agreement)
Eligibility
Open to all current SAMA members, age 18 and over. Submissions will not be processed and incorporated into the SAMA Artist Gallery until membership status is verified. (Dues may be paid on the SAMA Website if applicant is not a current SAMA member, or if membership term will expire prior to time of submission.)
2021 Fall Artist Market Program Policy
The primary focus of the SAMA Artist Gallery is to present contemporary mosaic art for sale to the public.  Currently, this is not a juried program.  Work should be of recent fabrication (within 5 years) and of artist's original design.
Work must be constructed and designed primarily in mosaic art medium application.  We request that work that is primarily Assemblage or Collage or other mixed media not be submitted to the 2021 Fall Artist Market.
If a submission was created in a recognizable style or influence of another artist, at the time of submitting your entry, please identify this fact and that your influence was from another artist who is known, unknown, contemporary, or deceased in your statement about the work. Art center or school open studio time projects will be accepted. Obvious copyright infringement will result in the removal of all work from SAMA Websites and programs and a 3-year suspension from all SAMA exhibition programs.
 All work submitted must be available for sale.  NO NFS work accepted for this program.
Entry Requirements
The Fall 2021 Artist Market season (September 26 – October 31, 2021) registration fee is $45 and includes ability to enter up to five (5) original works per gallery exhibition season.
For each work, you will complete a separate submission form completed by September 20, 2021, and will need for each work:
Title
Up to 3 images per work (total size combined not to exceed 8mb or entry will not be accepted by system). Important: the quality of photography contributes greatly to the clarity, sharpness, color, lighting, and understanding of your artwork which assists the buyers in their decision-making process. We want to show your work in the best possible manner.
300-word maximum Artist Statement or statement on the work or a combination not to exceed 300 words.
Unpackaged Height, Width, Weight of artwork
Packaged in Shipping Container Height, Width, Weight for shipping calculations (see note below)
Year Created
Total Sales Price (Should include your sale price plus 30% donation to SAMA, optional shipping if artist would like to make shipping free to buyers). Unless otherwise noted, buyers to pay shipping and sales tax. The artist's share will be issued to the artist within 30 days of the sale of the work.
Category Designation: Each entry may be designated in one or more of the following categories: Wall Mosaic, Free-Standing Mosaic, Fine Art Mosaic, Functional/Decorative Mosaic. (see definitions below)
Brief listing of Materials. (DO NOT include substrate, adhesive or material's brand name or country of origin.)
SAMA Artist Gallery Category Definitions
Wall Mosaics – Mosaics that are mounted to a vertical flat surface and are two-dimensional panels, bas-relief panels, or wall sculptures.
Free-Standing Mosaics – Mosaics that are sculptural or three-dimensional in a form that stands by themselves, on a pedestal, or floor surface.
Fine Art Mosaics – Mosaics created for aesthetic or intellectual purposes, i.e., wall hangings and sculptures.
Functional/Decorative Mosaics – Mosaics with functional purposes, i.e., jewelry, vessels, mirrors, surface coverings that do not impede object's primary purpose.
Note: these categories will be artist self-selected to aid buyers in searching and sorting entries in the gallery and a work may be designated for more than one category above.
Weight and Size Considerations
Artists will be responsible for shipping work to their buyers.  When submitting details, provide the weight and size of the work AND weight and size of the work within its shipping container.  Buyers will be responsible for shipping unless an Artist would like to absorb those costs in their pricing. We will provide both sets of measurements to the listing for potential buyer's consideration.
Shipping
The work MUST be sturdy and ready for hanging or installation during the exhibition window of September 26 – October 31, 2021.
Artists are responsible for:
Ensuring that work is shipped within (5) five business days of notification by SAMA of Sale.
Ensuring that work is shipped in a substantial shipping container that meets shipping standards with proper protective cushioning and support for the artwork installed inside the container.
Ensuring that hanging hardware or other essential items are installed on the work prior to shipping or provided with detailed installation instructions
Checking with the chosen carrier regarding insurance and correct packing procedures and customs documentation for international shipments and providing SAMA with copy of all paperwork and receipt to verify work has shipped to buyer.
Artists are to secure their own insurance for transit. SAMA will assume no responsibility for works while in transit to buyer. Artwork must be in good condition and able to withstand the ordinary strains of transportation.
Artists to send SAMA confirmation of shipping via tracking numbers once the work has been shipped.  Artists will not be reimbursed without shipping confirmation.  Reimbursements will be mailed to Artist within 5 days of SAMA receipt of shipping confirmation.
ABSOLUTELY NO FOAM POPCORN OR SHREDDED MATERIALS PACKAGING. It is our experience that use of this type of packaging will significantly increase the risk of the work arriving to your buyer damaged.
Terms & Conditions
Right of Use of Images
Images of selected works will be retained for the SAMA Library. Submission indicates granting of rights to SAMA to use image on the SAMA website, and in additional publications and websites and social media with appropriate crediting of artist and photographer for publicity purposes.  Artists retain all copyrights to their individual works.
SAMA WILL NOT BE RESPONSIBLE for breakage due to incorrect packing or an insufficient container when artwork is shipped to the buyer.  Artists will be responsible for settling any disputes with buyers or shipping companies in good faith.
Artists will be reimbursed for SALE, minus 30% Donation to SAMA via mailed check once confirmation of shipping of artwork is submitted to SAMA.
Only one Registration per Member for the SAMA Artist Gallery Fall 2021 Market.
Each Registration includes submission of up to (5)five works.  All submissions will be received through a private link provided in your registration confirmation email.
By purchasing Fall 2021 Market Registration, you agree to all terms, conditions and submission requirements outlined above.
NO REFUNDS OF REGISTRATION FEE AFTER FIRST ARTWORK IS SUBMITTED
If it is proven that eligibility requirements and submission guidelines as outlined above have not been adhered to after a work has been entered in the SAMA Artist Gallery, or received by the buyer after purchase, the work will be omitted from the exhibition and the member will not be eligible to enter work for consideration in future SAMA exhibition programs for three (3) years.
Registration for the Fall 2021 Artist Market is now closed.  Stay tuned for registration to the Winter 2022 Artist Market later this year!