Ellen Conard
I live in Michigan on the shore of Lake Huron, where beautiful stones, rocks, driftwood, and beach glass are always plentiful. After retiring a little early from teaching high school I began a gardening business in which garden design was my top interest. Geology and art have always remained strong interests, too. However no matter what the interest or location, COLOR has forever had a common thread running through all my interests. Color can create tranquility, excitement, happiness, despair, etc. I always look to nature for solid guidance on my color palette and also design. Painting is fun but putting together a mosaic piece is definitely more fulfilling to me! Nothing like adhesive fumes, nipper cuts, heavy grout buckets, freeze/thaw conditions, searching for unique materials, and wacky substrates to keep me going!
~Ellen Conard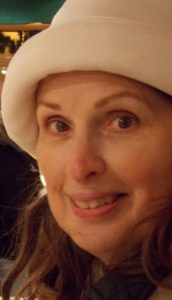 Russet Anglefish – Ellen Conard
$200.00
Shipping Included – US Only
Russet Anglefish, 2020
glass tiles, glass beads
9″ x 13.5″ x 6.5″
Free standing, non grouted mosaic of Russet angelfish.  Clay substrate, hollow on the inside. Tiles are very reflective and dark blue glass gems very striking.
Out of stock
Shades of Pink – Ellen Conard
$240.00
Shipping Included – US Only
Shades of Pink, 2020
Mostly glass tiles and dome shaped tiles. Accented with green beach glass from Lake Huron.
10″ x 15″
Large pot with drainage hole in bottom. Many shades of pinks, red wine colors, greens and black. Many pieces of Lake Huron beach glass incorporated in to design. Piece has been treated with sealer but I recommend inserting plastic liner in pot if used for potted plants
Out of stock